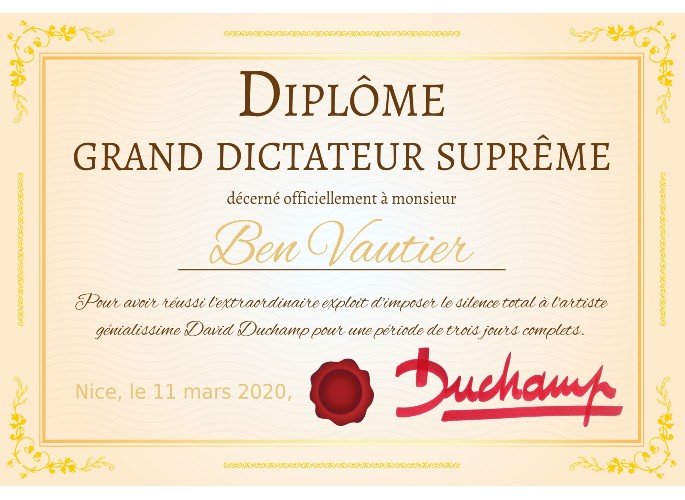 Category : Conceptual

Pure creations of the mind only understandable by a pure enlightened spirit.

By bringing them into being, I allow the viewer to attain intellectual completeness.
0 Piece Available Pieces Available Warning : Last artworks in stock !
Availability date :
| | |
| --- | --- |
| Year | 2020 |
| Artwork type | Painting |
| Feature | Unique Piece ! |
| Composition | Four-color printing on 320g laid paper |
| Size (W*H*D) | 29 cm × 20 cm × 0 cm |
| Visitors rating | |
Story of this artwork
Performed at the request of the Nice artist « Ben Vautier »

That Sunday March 8 was a beautiful warm and sunny day, just the kind I like.
I was in a good mood, and I said to myself : « How about going to visit my friend Ben at home, just to chat a little, and to help him make progress on his film »
As quickly said as done, I called him and he invited me to come and see him at home around 2:00 PM.
Unfortunately that day, he was in a bad mood, unwilling to listen to his wife's advice, and much less : to mine !
As soon as I got there, he forced me under threat to read his very long, never-ending newsletter which he had just sent out, asking my opinion.
Finally, we talked a little ... but suddenly, he abruptly abandoned me.
I found him a little later, and when I followed him to the film editing room, he pushed me away : « Leave me, I have things to check », to which I replied : « OK, I'm going to chat with Annie » ... « Yes, go on, go onnn, goooo ! »
There I was, with Annie, finally engaged in an intelligent discussion ...
When suddenly, like a devil emerging from his box, he appeared, interrupting us : « Come ! We're going to have a drink, I have an appointment with Gérald at 5:00 PM Place Garibaldi ! »
Here he pushed and shoved me : « Come on, come on, hurry up ! », Pulling me by my arm, thus preventing me even from saying goodbye to his charming wife ... but I didn't allow it !

We arrived at 4:30 PM Place Garibaldi, where a concert of « Nux Vomica » was taking place ... Good atmosphere !
5:00 PM : I went to find Gérald, asking Ben to stay where he was ...
5:05 PM : We came back together, but he had of course changed places !
5:15 PM : Finally, we sat on the terrace of the bar in our usual spot.
5:25 PM : François arrived and joined in on our conversation.
5:38 PM : At this exact moment, Ben yelled at me : « You talk too much, you talk too much ! » (which is a laugh coming from him : those who know him well will not contradict me! Moreover, as it is not the first time that he has said so, one could believe he is jealous of my verbosity !

)
Point blank, he said something like this :
« I will give you 500 euros if you don't speak for 3 days ! »
It only took me a split second to think and then shake the hand he held out to me, saying to him :
« OK, I accept the challenge, and it will be a performance ! »
My poor friend Ben, if you knew me a little better, you would know that :
Since I was a kid, I love taking on challenges
I only take a bet if I am absolutely sure I will win
From that moment, I only spoke in writing ...

And of course, the three delinquents were having a laugh and made fun of me for the next three hours !
Monday morning, I went to my lawyer, to ask him to testify to my silence, explaining everything in writing (what a pain

).
But he retorted : « That's stupid ... I can only testify that you did not speak for 10 minutes in my presence and your challenge will last 3 days ... No, what you need is to have this certified by all the people you meet during this period. »
I therefore shut myself up at home in the afternoon, in order to prepare everything that would be necessary for the creation of this performance artwork :
Certificates to be signed
Little notes of explanation that I would show to people
The final diploma for Ben which would attest to and represent this performance in the form of a work of art (entirely produced by me on my PC, laser printed on laid paper and signed in oil paint)
Only 2 days left ...
During the days that followed, I asked each of my friends and all the business people I met if they would act as witnesses of my absolute silence.
As a result, I received the whole gamut of reactions which I share here with you :
Lots of laughter
« I couldn't have done it ! »
« Well done! Extraordinary ! »
« Are you going to win money for this bet ? How much ? »
« I too want to participate »
etc.
Wednesday March 11 at 6:00 PM, I called Ben on the phone to tell him in person that my performance was finally over !
(and I lasted 3 days, 3 × 24 h = 72 h, from March 8 at 5:38 PM to March 11 at 6:00 PM )
It was both a living hell and a very funny and very interesting social experience !
As witnesses on Sunday evening, there were : Gérald Panighi and François Paris, two of Ben's artist friends who I added to the end of the list and who must have signed by now.
The poet Agnès Laurenti also called me on Wednesday afternoon, I had to hang up on her and send her a text : « Sorry, I don't have the right to speak until ... »
I called her back later to explain everything : she died laughing !
Ben is a terrible character : authoritarian, despotic, even totalitarian, who drives his poor wife Annie crazy (as well as me, your servant), and the list of his faults is so long that it would unnecessarily lengthen this text but I'm forced to admit that :
He is a man of his word who keeps his commitments, and there are so few in this world, that I had to testify to this very high quality !
He's an artist who sometimes inspires me, like a muse (and this is the proof !)
More than the money in this challenge, what interested me was the fact that Ben only buys artwork from people he considers to be real artists, and in doing so, he propelled me to the pantheon of art !
Having been recognized by Ben, this great master of performances who has done it all or known them all as an art historian, was a great honor for me !
The title of this artwork was inspired by this famous anarchist proverb :
The dictatorship is : « Shut up ! »
Democracy is : « Discuss always ! »
And in order to prevent some people from calling me a mythomaniac, I needed proof :
So I recorded Ben without his knowledge, just to have his sincere reactions (as well as Gérald Panighi who accompanied him) :
Payday at Laboratoire 132, boulevard de Cessole, March 12, 2020 at 3:00 PM
In this audio capture, Ben says one essential thing :
No artist before me has done it as a work of art : I am the only example !
(As he is always on the lookout for something new ... he was very satisfied.)
Postscript : This was my second Fluxus performance, the first done for the closing of his expo at 109, and about which he wrote in his newsletter dated 03/10/2019 :
« I liked David Duchamp who spent his 2 minutes 33 seconds by counting aloud to 153 »
(well, it's not quite right : I counted for 3 minutes 33 ...)