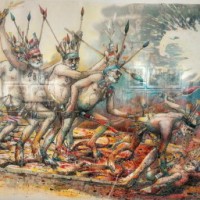 It's been a very long time since I had returned to the Côte d'Azur, so I took the opportunity to visit some museums ...
And this winter 2019, it was offered to me to discover a magical and magical place, filled with beautiful artworks the way I like them, accumulated by the collector Jean FERRERO.
And I say to myself : « Really, this Ferrero did not buy only shit !! »
This place called « L'artistique » is located at 27, boulevard Dubouchage in Nice (France).
I really encourage you to go and visit it, especially because the entrance is free !
You can see artworks by : Arman, César, Ben and others from the « Nice school ».
But above all those of my three favorites : Jacques SÉCHAUD (around fifty drawings), a giant painting by Martine DOYTIER, and « The Borneo Expedition » by Bernard REYBOZ, of which I am putting some photos, just to entice you ...
L'artistique : www.nice.fr
Ferrero video explaining Martine DOYTIER's painting (in French) : www.francetvinfo.fr
Photo gallery
(click on it, then click again !)