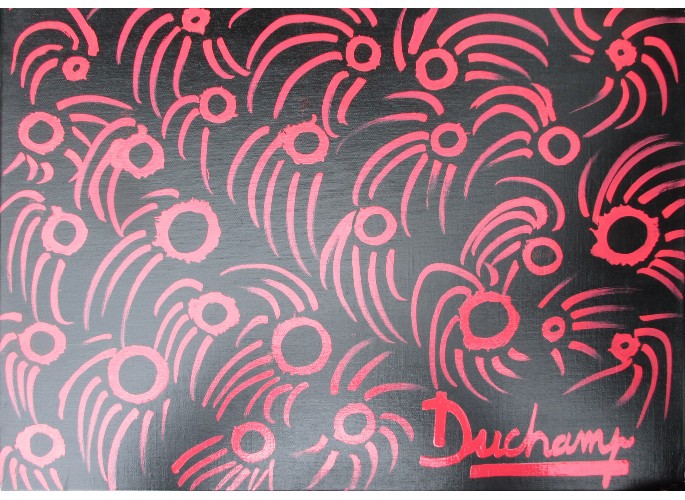 Category : Various

Here you will find everything that does not fit into another category.
0 Piece Available Pieces Available Warning : Last artworks in stock !
Availability date :
| | |
| --- | --- |
| Year | 2019 |
| Artwork type | Painting |
| Feature | Unique Piece ! |
| Composition | Oil paint on linen canvas |
| Size (W*H*D) | 65 cm × 50 cm × 2 cm |
| Visitors rating | No reviews yet... |
Story of this artwork
This artwork was sold to benefit the Lenval Hospital Foundation and the youth of the O.G.C.N
In winter 2019, I decided to return to the French Riviera to celebrate Christmas with my family.
I also took this opportunity to see friends, especially my old friend Jean-Luc Cohen who is a fervent supporter of the local football team « OGC Nice » and who diligently follows their progress ...
On November 19, 2019, he told me about a charity auction that would take place at the Nice Opera on Monday December 16 for the benefit of the club's youth, and suggested that I create an artwork for this occasion.
The idea was interesting, but despite racking my brain during the days that followed, no idea came to me.
In fact, the inspiration came to me like a flash of lightning on Friday afternoon, just 3 days before ...
The challenge was to create an artwork in the colors of the football club (red and black).
Saturday morning, I frantically set to work on a canvas painted in oil on a black background (already finished six months before for another project and therefore perfectly dry) with a quick-drying red oil paint.
So I arrived on Monday afternoon at the opera house with my offering, knowing full well that it would be sold outside of the catalog ...
I didn't care since I wanted to bring my contribution, and as Pierre de Coubertin said : « The important thing is to participate ».
My happiness reached its peak at the end of the evening, when  the buyer of my artwork was none other than the president of O.G.C.N : Jean-Pierre Rivère !
Helping hand from supporters [1]

Just before 9 PM, Jean-Pierre Rivère announced the great news : the record had been broken. Within the next hour, it was shattered. Indeed, at the end of the catalog, € 128,500 had been collected.

« But it's not quite over », interrupted the president of OGC Nice, before presenting two artworks produced by supporters, the first by the CDS and the second by artist David Duchamp . Sold for € 1,500, the lot raised the total for the evening to € 130,000.

All smiles, participants could pose with two checks of € 65,000 : the first would be donated to the Lenval Foundation, the second to the OGC Nice Endowment Fund, where it would be used as part of the "children" component of its policy on social responsibility.

A huge thank you to them, and see you next year !
Needless to say, next year I will try to be there, and this time with a masterpiece !
This painting could be considered abstract, but I showed it to a few people who interpreted it in several ways :
« They look like suns » (the majority)
« It makes me think of eyes »
« Hairy footballers running on the pitch »
etc.
Now there are two possibilities :
either you want to let your imagination run wild, or you want to know the explanation and for that ...
I would like to thank all parties who welcomed my contribution : municipal councilor Mr. Robert Roux for introducing me to the organizer of the evening Mr. Benjamin Mondou who inserted me in the auction which was directed by auctioneer Ms. Juliette Séveillac de La Tour d'Auvergne acting on behalf of the auction house MILLON Riviera.
Notes and references
1. www.ogcnice.com/fr/actualite/38722/130-000-pour-les-enfants